A boat ride in the Green Venice
In the heart of the Poitou land, we discover the Green Venice, a superb natural curiosity must visit during a stay in the region h2>.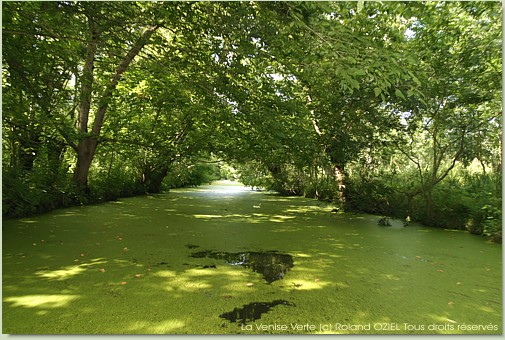 p>
During a short holiday in the Vendee, friends offer me a boat ride in the wet part of the Marais Poitevin, also known as the poetic name of Green Venice. We go then to the village of Coulon, where boarding is done (there are other docks in the marsh). To browse the 29,000 hectares of the Green Venice, different walks of options are available: with or without a guide, from 30 minutes to 3 hours ... We opt for the ride of one hour with a guide, which will prevent us rowing ourselves!
on the pier, it is very hot, heat wave forces, but as soon as the boat has traveled a few meters, we enjoy the coolness and shade marshes. The trees form as a roof over our heads and partially mask the sun. The train with its Pigouille guide and tells stories about the history of Poitou countries and the local fauna and flora. about, I see passing a coon! They are very numerous in marshes and gnaw the trunks of rotten trees. We also see beautiful bright blue dragonflies that flit around the boat and much less friendly, huge spiders that wove their web.
We meet other travelers on a boat but the guide takes us on the opposite direction. The channels intersect and turn away, it looks like a maze! The vegetation is very dense, which reinforces the impression of being lost in the middle of nowhere. The water surface is covered with a thick layer of green aquatic lentil, branches of willow trees down on the marshes, frogs jumping on the banks, it's like in a symphony of green! While
we continue to discover the secrets of the Marais Poitevin, the only sounds you hear are those of the boatman Pigouille splitting water and the croaking of some toads. The boat sways gently and begin almost falling asleep ... A true moment of relaxation, which ended too quickly when the guide takes us back to our starting point! P>
+ Pros: h2>
a moment of relaxation, beauty, unspoiled landscapes, the cool place p>
Cons: h2>
There are a lot of mosquitoes p>!
advice and tips: h2>
To enjoy the ride, go in the early morning or late afternoon. This will avoid the crowds on the canals and the light is beautiful.
Prefer the walk with a guide that will teach you a lot about the history and folklore Poitevin.
Allow product mosquito repellent
You also have the possibility to rent a canoe or tour the bike marsh: beautiful walks into perspective p>!
Practical Information h2> How to get there: h3>
The Marais Poitevin covers three departments (Vendée, Deux-Sèvres and Charente-Maritime) and two regions (Loire and Poitou-Charentes). Green Venice is located in the eastern part of the wet marshes. There are several embarkation points depending on where you arrive: Coulon, Maille, Maillezais, Lapwing, Damvix, Arçais ... From Paris, take the TGV to Niort and then use the bus links up Coulon or other villages mentioned.
list of piers p>
Contact: h3>
There are several companies that offer the boat rental service: p>
www.veniseverte.com li> Ul>

See also the site of the Tourist Office of the Marais Poitevin < br /> p>

p>

Time h3>

The walks last from 45 minutes to 3 hours, with a route between 2.5 and 12 km p>.

p>

Budget: h3>

Price per boat: For 1 to 4 persons, starting from 25 € (for a walk of 45 minutes) and 76 € (3 hours walk). From 5 to 6 persons, the rates range from 30 € to 85 € for the same periods. Li>
For boats without a guide, rental costs about € 15 per hour li>.
The canoe rental costs € 13 per hour and rates are decreasing for the following hours li>.
Bike rental costs € 5 per hour or € 18 per day
li> Ul> to see the surroundings: h3>

Niort, Fontenay-le-Comte, La Rochelle p>


Author: strong> Anna Romani p>